Aug 5, 2011
Chris Evans Workout – Can You Handle It!
There are a lot of reasons why superhero movies are so popular, but the most popular hero-buzz these days is the buff, chiseled-to-perfection bodies of the stars portraying the comic-book icons.  Let's face it, there's a reason why so many men were able to "drag" their girlfriends to see Captain America: the women came for the eye candy that is Chris Evans.  So, naturally, there is a demand for Chris Evans' workout routine that will help the average guy become their own version of Captain America.  Want to get right to the workout- check it out here.
While Chris is no amateur when it comes to movies, the fact that he has always strived to keep himself in shape has been a cornerstone of his life's philosophy.  From working with  stars such as Jessica Alba as the invisible women in fantastic four, to Chris Hemsworth in the upcoming Avenger's Move, Chris has always had to master his body.  However, as you can see in the photo, there's a big change from his original workout and therefore physique to that of what is was for Captain America.
What the Chris Evans Workout Was Like
Chris Evans' workout routine for Captain America took 4 months of training, for 2 hours each day.  Chris has been reported as saying the following about the workout to PopSugar; "We did two hours a day, and it was brutal. I usually like working out. Going in sucks, but walking out, you're like, 'I'm glad I did that!' This was different. I'd walk out and I'd be like, 'I need to vomit. I hate this trainer. I hate this movie. I want to go to sleep for a week.' It was just relentless."
F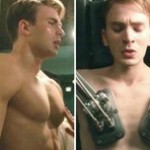 or Chris it wasn't only the workout that was brutal but also the diet.  Chris said, "Working out sucked, eating sucked more. You get to a point where you just can't even look at another piece of chicken. You're just so bloated, but you just have to keep consuming protein, so that was tricky."  For Chris, his high metabolism is not as friendly towards building muscle mass as it is to his low fat density.
Thankfully for Chris, the "weakling" Steve Rogers shown in the beginning of the movie was done through special effects as opposed to having to lost a massive amount of weight and muscle mass and then having to build it all back up.
Getting the Chris Evans Workout Started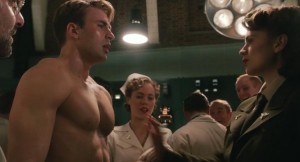 For the average person, it may be difficult to fit in a 2 hour gym session every single day.  Aside from time constraints, one should also be mindful of their personal fitness level when starting out.  Pushing oneself too hard in the beginning will do more harm than good.  Evans has said the workout and diet combo sometimes left him feeling not only bloated but nauseated as well.  So it's important to recognize your limits.  Before you start any workout routine, it is always recommended to consult your physician.
If you are going to follow a Chris Evans Workout and get a body like a superhero, you must start with the following steps:
First make the decision to be fully dedicated.  It isn't for the faint-hearted or slacker.  Evans himself has described the training for Captain America using the terms "sucked" and "brutal."  The workout and diet needed to attain the look are both necessary and unforgiving. You won't stay with this workout or any other if you don't first determine to be fully dedicated, no matter the cost.
Secondly you must remember that it's not just about the gym routine, but a  superhero diet as well.  This diet must include lots of lean protein, and  including incorporating protein supplements if you have trouble gaining muscle mass easily.  The diet is especially vital in order to gain the muscle mass and the sculpted look that the Chris Evans workout is all about
Thirdly, it's important to remain realistic with result expectations.  If it took Evans 4 months to become Captain America, do not become easily discouraged if it takes at least 6 weeks to notice a considerable change.  To obtain the desired physique is going to take time and serious motivation
The Chris Evans Workout Routine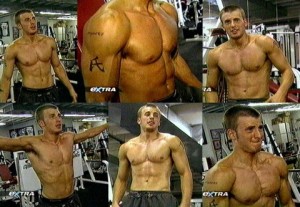 Most all Chris Evans workout routines that are found on the internet follow a similar split routine, meaning that you should focus on training a specific muscle group each day.  A Chris Evans workout mainly concentrates on upper body strength, especially shoulders, chest, and abs.  The following Chris Evans Workout is a 5-day split routine with a 2-day rest period.